Stand By Me
Update 2.0 - Skills, Make-a-Friend and more!
---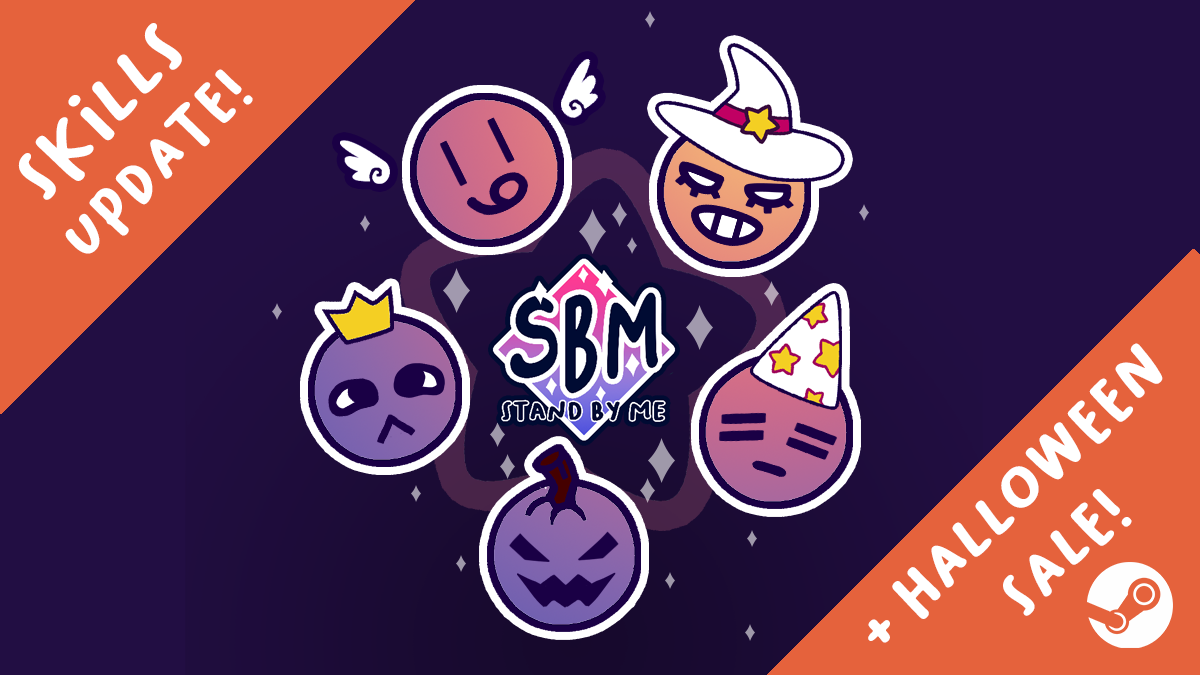 New Content:
- Five new Skill books - player skills that, after unlocked, can be used in the story books:
Hat: Gives an extra hit per page;

Aim Shot: Enters bullet time, slowing down time and letting Pico aim and change trajectory (five uses per book);

Warp: Five uses per book;

Demolition: Allows for breaking standard breakable blocks (and multi-hit ones) without bouncing, and also destroys spikes;

Tiny: Tiny.

- Make-a-Friend, unlocked after finishing the first book! Improvements from the web version: new customizations, animated shaders, sound effects and now you can hang pictures of your favorite creations on the main menu wall;
- Stickers on the main menu wall are now progressively unlocked during gameplay;
- Five new achievements;
- A photo of Luna;
- Various bug fixes.

And for the Halloween Sale, SBM is also 20% off until November 2nd!

======================================

Conteúdo novo:

- Cinco novos livros de Skills - habilidades de jogador que, depois de desbloqueadas, podem ser usadas nos livros de história:
Chapéu: Dá um hit extra por página;

Sinuca: Dá um "bullet time", permitindo desacelerar o tempo, mirar e atirar em uma direção (cinco usos por livro);

Teleporte: Cinco usos por livro;

Demolição: Permite quebrar blocos quebráveis (e com múltiplos hits) sem rebater e também quebra spikes;

Pequenininho: Pequenininho.

- Make-a-Friend (Faça-Seu-Amigo) nativo, liberado após terminar o primeiro livro! Melhorias em relação à versão web: novas customizações, shaders animados, efeitos sonoros e agora você pode pendurar as fotos dos seus amigos preferidos direto na parede do menu principal;
- Stickers na parede do menu agora são liberadas progressivamente conforme se avança no jogo;
- Cinco novas conquistas;
- Foto da Luna;
- Bugfixes diversos.

E para a sale de Halloween, SBM também está com 20% de desconto até dia 2 de Novembro!
Files
Stand By Me v2.0.0 x64.zip
86 MB
Oct 28, 2021